'Calibre One: Meet The Experts' Is A Series That Delves Into The Minds Of Our Partners At Calibre One. Join Us As We Talk With Our Industry Leaders About Their Experiences, Insights, And Strategies In Navigating The Competitive Landscape Of Executive Search And Placement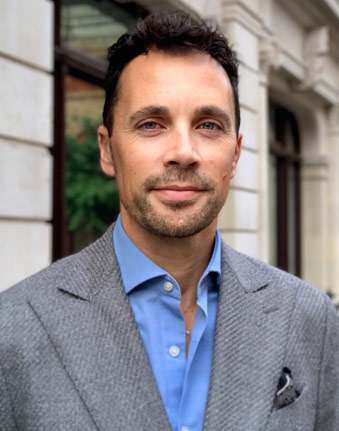 Like many, a path within Executive search was not abundantly clear as I completed my formal education. I come from a family of capable communicators and multi-linguists however, when I studied Classical Civilisations at university, I sincerely believed I was going to be Indiana Jones! I was drawn into executive search by an acquaintance who told me it required charisma, tenacity and the ability to build both relationships and trust quickly. After graduation I spent a year travelling but the idea stuck. I started in a multilingual search consultancy in Windsor, leveraging my language skills. At the time it was the largest independent of its type, with huge global businesses such as Lego and CA Technologies as clients. My stock rose quickly, and I subsequently built an 80-person contact centre with multilingual capability for Go Fly … which then became EasyJet.
I later joined the Michael Page super-brand, placing Chief Financial Officers and senior finance professionals, and later for technology-focused broker MSB International where I built my knowledge of financial services and tech centricity. Having spent 17 years focused purely in search, I moved to a management consultancy where I was able to significantly progress my knowledge of digital transformation and its impact on the customer journey – exploring how technology and product is central to revenue outcomes and optimised performance particularly across financial innovation. Highlights were in delivering key programmes of work across both regulatory and change mandates on behalf of Barclays, in particular the bank's agenda relating to Cheque Imaging (the technology that means cheques now clear immediately), and its response to Brexit. I also supported the Consulting and Analytics offering for VISA across a sizeable client base, as well as positioning Schroders' global business with regard to its ESG strategy.
My experiences range from running my own business to the successful sale of Mansion House Consulting (as a key member of the executive leadership team) to an £8 billion market cap Italian-listed digital consultancy prior to joining Calibre One. I enjoyed having the opportunity to work with executives driving transformation by building project teams to deliver their roadmap, and it reinforced the links between management consultancy and executive search.
And yet after all that, since I joined Calibre One in 2021, I've had the most enjoyable time of the past two decades, building our financial services offering across Europe and looking forward to the journey ahead.
Areas of specialism
I service the payments, digital assets, fintech and financial innovation domains, in the provision of c-suite leaders across all internal functions. My ambition is to continue building a market-leading FS practice and for Calibre One to be the go-to firm for board and leadership appointments within the space.
What do you love about your role?
Irelish the opportunity I have to impact businesses globally.
One CEO I've worked with through very difficult circumstances recently told me: "It's been an absolute delight dealing with you and Calibre One." To me it's vital that the experience we shared was overwhelmingly positive and I think that comes down to the energy and effort I put in, my attention to detail but also the incredible team around me. At the core of everything there needs to a team who passionately care about what they do, demonstrate willingness to collaborate, are relentless in the pursuit of uncovering the most salient talent, and are ultimately driven to deliver world-class outcomes.
The human dynamic is essential. In executive search you are changing people's lives – they may be putting a lot of risk on the line in taking a role and you need to show why that opportunity can resonate with them; conversely when a client is looking to attract leading talent, for us to be their conduit to market we need to create a compelling narrative to engage the best candidates. It's a complex task to put a team together and get the culture right.
So, my first driver is to deliver an outstanding job for the client and the candidate, delighting them both. If they want to call me at 10:00 o'clock in the evening because it suits their time zone that's no problem. Going the extra mile is extremely important and my standard never drops. My second driver is, of course, impact. I'm repaying their faith in me and Calibre One, and I don't rest until I get the result with a really high-quality outcome that will leave the business stronger for the long term.
My landmark placement
I have three landmark placements. First, I put employee no. 5 into Form3, a start-up payment technology platform. He was the Chief Technology Officer (CTO) and one of the founding team in a tiny little office. They now have 2,500 people globally, they've had significant success in financial services, growing at least 30% every year. That CTO has 260 people in his team alone, and significantly he built the platform the business is founded on!
My second and third landmark placements are about geography and achieving the impossible. I introduced a Russian residing in America into a leading bank in Kenya as Chief Information Officer, persuading him to relocate to Nairobi, and I convinced an Indian citizen who was living in New Zealand to move to Jordan for the Arab Banking Group to drive their newly created digital transformation roadmap. Five years on, he is now global head of technology and digital for the entire group.
What does success look like for you in an Executive Search Process?
For me success is both internal and external. Yes, delighting the client is pivotal, but it's also about sharing the exceptional feedback I get from clients with my team. I have a responsibility as a fee earner for the business but it's also allowing the team (who may be earlier in their careers) to be the best they can be at what they do. Success hinges on many factors: making sure the right questions are asked at interview, making sure the client considers wider industry experience when they're looking to game change the business, creating a strong narrative that acts as compelling marketing collateral to attract the right candidate. But for me success is becoming a trusted advisor to a board through the work we perform, leaving a great legacy that yields repeat business.
What do you see as the greatest opportunity of the next decade?
I think there are three big things over the next five years. First, innovation around customer experience will continue to evolve, with Artificial Intelligence playing an important part in that evolution. Second, ever-changing regulation in the payments sector and its impact. Third, ESG and its impact where all businesses will continue to build their capability and commit significant resource.
What's your favourite quote?
"It's how we respond to adversity, not how we react that ultimately defines us."
When bad news hits it's natural as humans to have an emotional reaction but in business there will always be challenges. So, it's important to respond with thought and clarity rather than be swayed by an immediate reaction. People are at the centre of our product and therefore often unpredictable, so remaining calm when things are good and conversely being calm when problems inevitably arise!